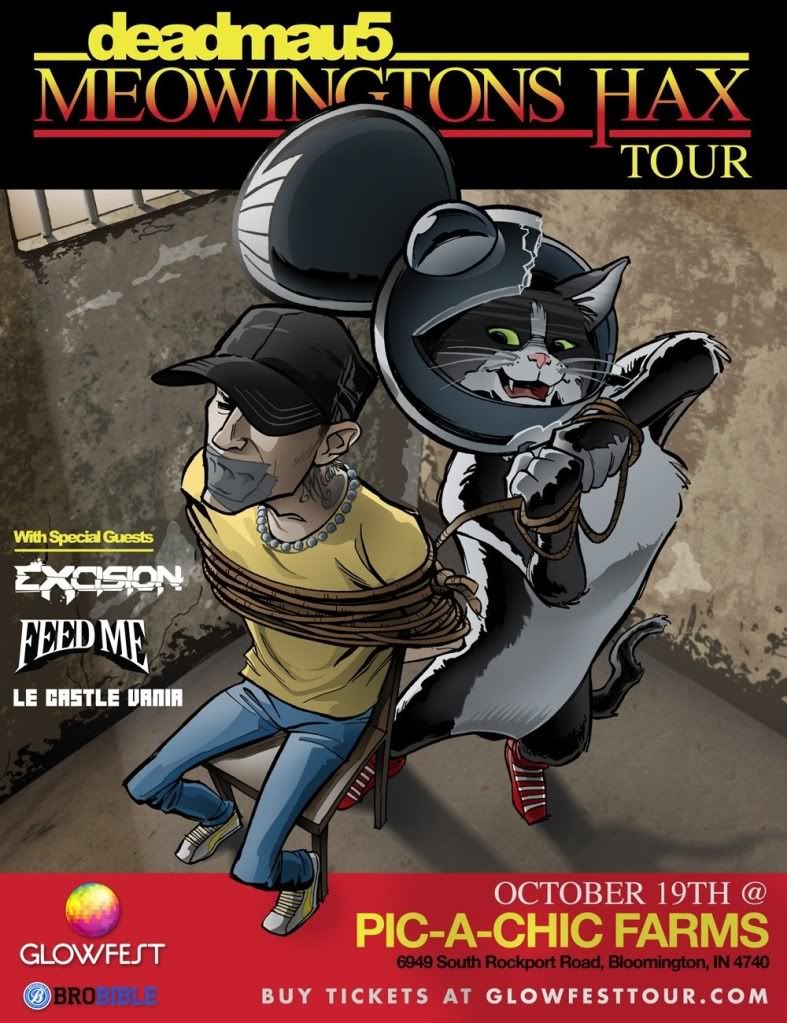 INDIANA you told us who YOU wanted and we did it again!
Presale Tickets sold out in a few hours. Advanced Tickets are on sale while available at [
glowfesttour.com
]
-Deadmau5 @ 8pm
-Excision @ 6:50pm
-Feed Me @ 5:45pm
-Le Castle Vania @ 4:45pm
Doors open at 4:30pm music starts at 4:45. Show is 16+
**TICKETS**
$35 Pre sale (SOLD OUT)
$40 Advance
$45 Day of Show
(Save $.50 each time by clicking Tweet, Like, or google + at checkout).
**TRANSPORTATION**
Bus service will be available and running continuously from 4:00pm until 11:30pm for $10 roundtrip. Bussing transportation provided by BtownTrips.
On-Campus Location
South Side of McNutt off of 13th St
Downtown Location
TBD
Parking will be $10. We encourage everyone to utilize the bus system and to NOT drink & drive.
**OUT OF TOWN?**
- We are looking for reps from cities outside of Bloomington that want to fill up party buses that will take you to the show and drop you off. Reps that fill up a bus will get hooked up! Email
jack@baatalent.com
for info
**STUDENT ORGANIZATIONS**
Raise money for your respective charities or your student organization! Sign up at [
*******
]
**PARTNERS**
BroBible ([
www.BroBible.com
])
BCEC ([
www.TheBcec.org
])
IUDM ([
www.iudm.org
])
Insiders Inc ([
www.insidersinc.com
])
Indy Mojo ([
www.IndyMojo.com
])
BtownTrips ([
www.BtownTrips.com
])
**FOLLOW US**
[
www.twitter.com
]
[
www.youtube.com
]
[
www.facebook.com
]
**PRESS**
Email:
glowfest@baatalent.com
More information [
www.GLOWFESTTOUR.com
]