Saturday, January 1st, 2011
[ K O N T R O L ]
minimal techno + avant house
every 1st Saturday at The Endup
featuring from Paris:
::: D'JULZ :::
(Bass Culture, Circus Company, Poker Flat)
(Ovum, Dessous, Brique Rouge, 2020Vision)
from Detroit:
::: OMAR-S :::
(FXHE, Sound Signature, Fabric)
and from Berlin:
::: JOHN ROBERTS - live :::
(Dial, Laid, Feel Music)
with residents:
NIKOLA BAYTALA (S.W.A.T. . Robsoul . Junior Boys Own)
[
www.myspace.com
]
CRAIG KUNA (Mothership . Platform . ESDJCO)
[
www.myspace.com
]
SAMMY D (Classic . Dirtybird . Utensil . Magnificent 7)
[
www.myspace.com
]
_________________________________________________________
The ENDUP
401 6th St @ Harrison, SF
10pm - 6am / 21+ / $20
[
www.theendup.com
]
The Endup will be rocking all day and all night over New Year's!
Special $10 entry from 10-11pm for [KONTROL] early birds.
_________________________________________________________
Poster: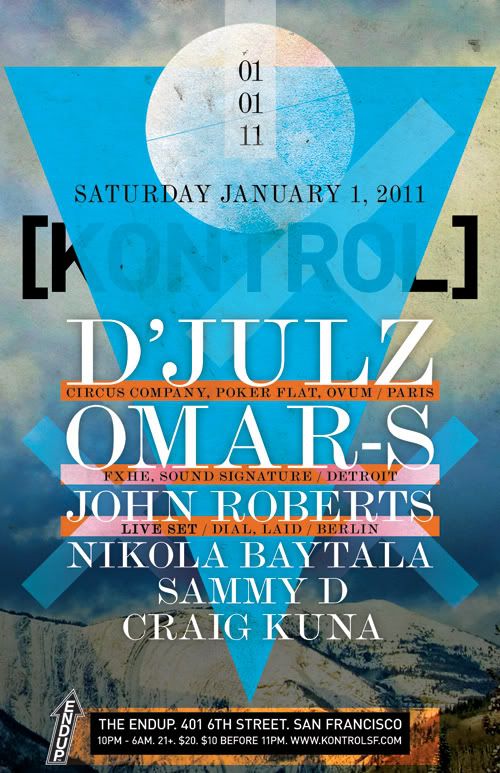 Facebook Invite:
[
www.facebook.com
]
RA Event:
[
www.residentadvisor.net
]
_________________________________________________________
D'JULZ
Whether its through his productions, radio shows, compilations, parties or club sets, D'Julz has been at the forefront of electronic music since his career first began back in 1992. A firm DJ and fan favorite alike, his ability to transcend genres and trends has seen him hold one of the most consistent levels of success of any modern day DJ/Producer. A run of form that is at its strongest, today.
D'Julz's early career saw him make an instant impact in his home city of Paris. Spinning at many of the city's early raves and legendary clubs. The release of his debut mix compilation, provided him with the opportunity to export his sound. A hugely successful 1993 move to New York quickly furthered his reputation, and upon his return to Europe he found himself to be in high demand, playing key Clubs in Belgium, Holland, the UK and Ibiza.
1997 saw the birth of the now legendary, 'Bass Culture' parties at Paris' Rex club. The monthly party has now become the longest running event in the clubs history, and in 2009 gave its name to D'Julz's brand new, and highly successful record label.
Having released his debut productions in the mind 90's, it was the early 2000's that really saw him make an impact. His music has now featured on some of the worlds finest labels, and his releases and remixes for the likes of Ovum, 20:20 Vision, Dessous, Pokerflat, Safari, Real Tone, Get Physical, Mobilee, Rekids, Systematic and 100% Pure have all become essential weapons in the sets and record boxes of the world's elite.
In recent times D'Julz has reached a new level of production excellence. 2008's ëJust so You Knowí on Ovum and 'Fleurette' on Circus Company became instant classics, and his current release for the label 'Rotondo' is well on its way to achieving similar status. His remix of Slam's 'Positive Education' on Soma, and his edit of Anonym's 'Lov Is Easy' on his own Bass Culture label have ruled the DJ and download charts alike.
D'Julz continues to travel the world, playing the finest dancefloors and parties. The future has never been more exciting for the Frenchman. His Bass Culture label continues to grow from strength to strength and this year will see him release the Rex club compilation, celebrating the 15th Year of the Bass Culture parties. Back from the States, his reputation quickly spreaded all other Europeís major clubs, working steadily to finally becoming a first class dj, producer, remixer and now label boss.
Website:
[
www.djulz.com
]
Discography:
[
www.discogs.com
]
Facebook:
[
www.facebook.com
]
RA Interview:
[
www.beatportal.com
]
AUDIO - Live @ Backroom, Cardiff - November 2010:
[
soundcloud.com
]
VIDEO - Live @ JB's, Japan - 2010:
_________________________________________________________
OMAR-S
-- From FabricLondon.com's notes on Fabric 45:
"In the post-social-networking era, an artist like Omar-S is not just a rarity, he's a treasure. The Detroit-based mastermind stands tall as a daring reminder of how things used to be, how things should be: authentic, exceptional music released on a carefully harvested grassroots label, with no attachment to hype or any incestuous "Top Friends" circles. Distributed solely off his own back, and diligently monitoring every step (even hand-writing notes on his white labels), Omar-S' FXHE imprint has become an underground cult of sorts, and his off-kilter productions bang as testament to his vibrant uniqueness. Bringing back the Detroit ethos but shaking up the formula in unimaginable ways, his music and label stand for everything the proud city represented in the past, as well as giving it a bright light for the future. Producing at such a prolific rate at an impressively young age, his style was so different that for years, the rest of Detroit didn't get it. Even now, despite his devout following and a myriad of hugely celebrated releases under his belt ("Psychotic Photosynthesis," his wondrously adventurous LP's, his collaboration with Shadow Ray as Oasis, etc), he rarely plays in Detroit and his hometown is none the wiser about the sound he's perfected. And his fan base, meanwhile, is none the wiser about the enigmatic man himself: with only two known interviews to date, looming aspects of his personal life, like his street-racing profile (a prevalent part of his Detroit life the last 14 years), have simply gone undocumented.
On 'fabric 45: Omar-S DETROIT,' Omar-S provides the uneducated with a stunning, arresting portrait of who he is as an artist, as a DJ, as an outsider, as a radical in an otherwise indifferent music world. Enter the wide, unformulaic world of Alex Omar Smith, where all rules of techno and house are contorted, and no directions can ever be predicted. His complex yet austere productions build and interlock individually, in the same way they bind collectively to form a fluid, surreal anthology. Deep, challenging and all-consuming, fabric 45 is aural poetry, atmospheric bliss: put simply, a work of art."
Fabric 45: Omar-S Detroit was voted #1 in Resident Advisor's Editors Poll of the Top 20 Compliations of 2009.
Website:
[
www.omarsdetroit.us
]
Discography:
[
www.discogs.com
]
RA Interview:
[
www.residentadvisor.net
]
AUDIO - Train Wreck Mix for Red Bull Music Academy:
[
redbullmusicacademyradio.com
]
VIDEO - Omar-S @ Taico Club, Japan - 2010:
___________________________________________________
JOHN ROBERTS
-- From LittleWhiteEarbuds.com's Top 10 Albums of 2010 (#3)
After a string of laudable 12-inches and a few scattered remixes and compilation cuts, John Roberts made good on his promise as Dialís next great album producer with his debut long player, Glass Eights. The album finds him coalescing around a more uniform aesthetic, sounding a bit like youíd expect the producerís headspace would during a succession of ten sunless winter days. Gone are the overt ghetto-house references, that former swagger now drenched in piano reverb and twinkling bells, those eternal signifiers of electronic melancholia. Deeper listens divulge an intensive attention to detail, compositions so nuanced and personal it feels shameful to worry about their efficacy in a club setting. Roberts notoriously composes in bed, and Glass Eights bears its influence, using house music as a bridge between the openness of his own space and the claustrophobic rest of the world. To sound purely like oneself, especially on oneís debut album, is a high achievement, and this is precisely what Roberts has done.
-- From ResidentAdvisor.net's Top 20 Albums of 2010 (#5)
"In the end, Glass Eights took me almost two years from beginning to end. I reached a point about twelve months in where I thought I was finished, but then ended up trying to replace what sounded stale over time for almost another year. I started to feel pretty insane toward the end of the process and became obsessed with adding and subtracting minute details that probably only I was excited or bothered by. It was really important to me that the album wouldn't just be a collection of previously released singles. I tried to make each track work in conjunction with the one that followed so that going from start to finish would seem like the best way to listen to it." -- John Roberts
Website:
[
www.johnrobert.net
]
Discography:
[
www.discogs.com
])
RA Interview:
[
www.residentadvisor.net
]
AUDIO - Live Set @ Nachtdigital Festival, Germany - 2010
[
redbullmusicacademyradio.com
]
VIDEO - Live Set @ Nachtdigital Festival, Germany - 2010
___________________________________________________
[
www.kontrolsf.com
]
[
www.facebook.com
]